"MADE IN CHINA" MASK (part 3), plexi, pearls, jump rings, 2020.
At the time of the lockdown, I was working as an essential worker at a grocery store. It was surreal to watch drastic change to everyday life and a struggle to find normalcy. I watched the surge of demand and the very little supply to meet this need. It felt silly to worry about making anything that went towards my practice. 
When the need for masks arose it provided a much needed routine for me to make when it wasn't viable to go to studio. I turned to the comfort of smaller handy work at home and left behind the dreams and ideas of big sets in the studio.
During these first couple of weeks, those with sewing skills helped to provide masks when the supply was very low and while our country was retooling its production and found other supply chains.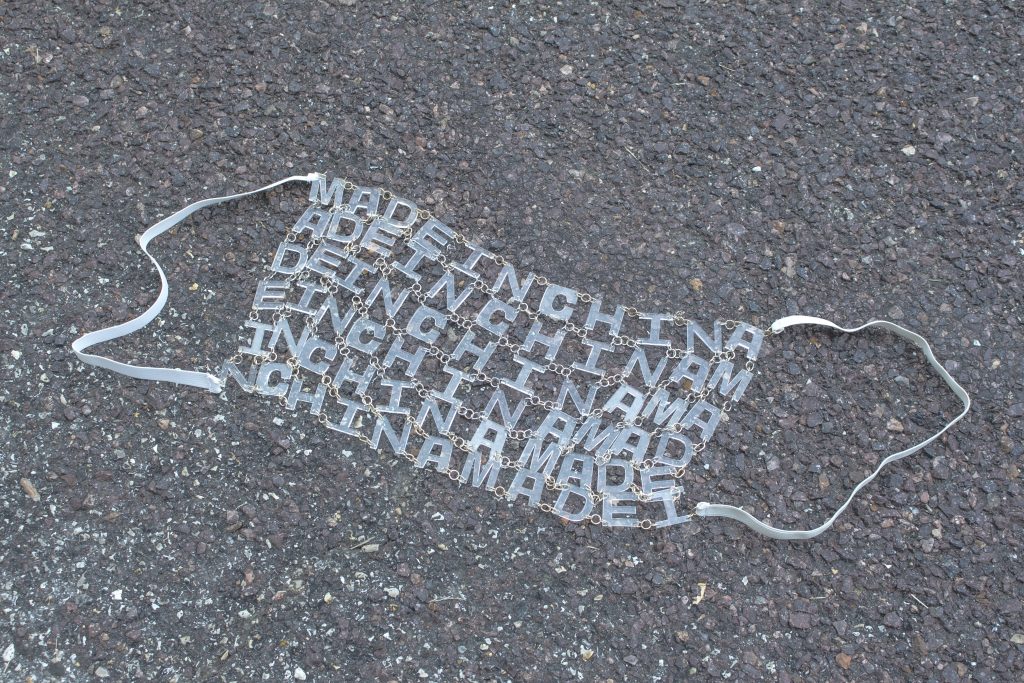 As time progressed, it was disheartening to see the masks that were supposed to be a sign of care, morph into an additional bio hazard for others going to stores and also for workers whose cleaning duties were already being increased.
I started to take pictures of masks on the ground whenever I saw them out shopping. Which fed into the energy and motivation for all of these plexi-glass masks work that I made.
I looked back to some of my previous flag body of work as a way to work out some of these questions. I specifically revisited my "Made In China" Flag piece and took the same materials but applied it in new ways. I had thought that the conversations generated by the previous work was over but because of the virus, the problems that arose this year highlighted the many reasons why the original ideas were so important. The dangers and dependence of a manufacturing base not based in our country was one part of it but also this time around the emotional quality also stood out more.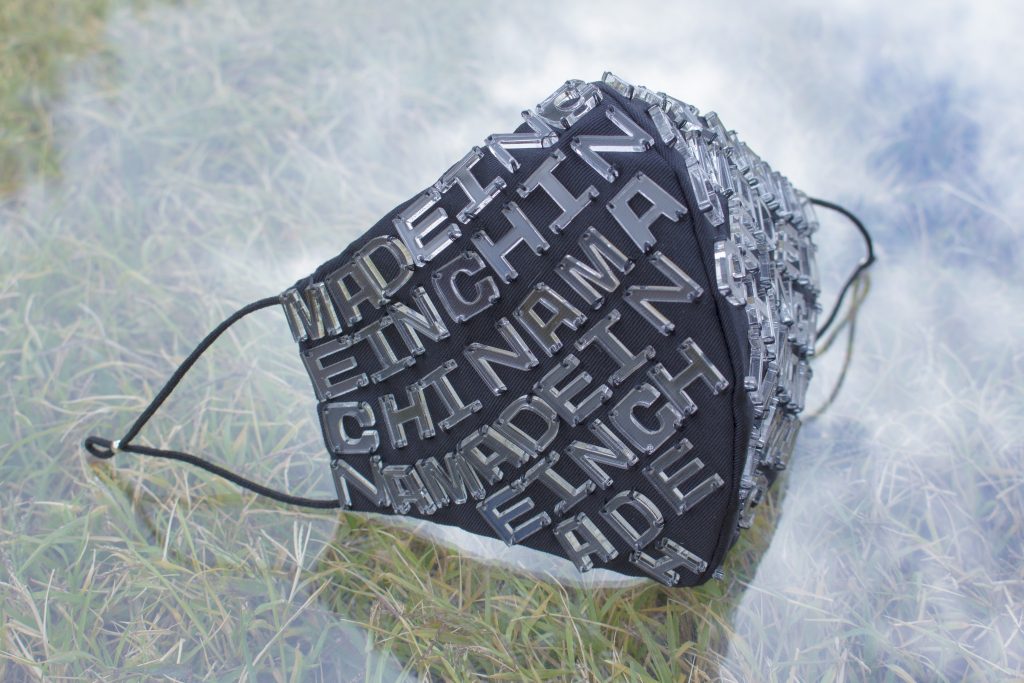 This mask series also addresses my personal feelings of anxiety and loneliness being Chinese in a Western society.These thoughts have been more prevalent to me this year. This emotional underpinning is something that has existed in my work but something I never fully felt comfortable sharing.
This recent mask highlights this feeling of voicelessness. How others like to feel comfortable with their assumptions and narratives of me rather than the inconveniences of my truth. My life and my family's past is more complex than just the labels we identify with. I don't want to feel like it would be a waste of time or effort for me to connect with others over serious topics. There is a strange comfort in having this plexi-glass work that I have developed to describe these feelings and experiences, but also something terribly grim about having to bring it back up again…